Bundle Bee-Bot Floor Robot and Command cards
Processing Time
1 - 2 Business days
Bee-Bot along with Command cards provide a visual record of the planned program that students can follow as it is execut
More details
Bee-Bot® is an engaging classroom robot for early-age kids to learn STEM with a variety of cross-curricular activates. It's a Bee-shaped robot, yellow in color with controls to move forward/backward and turn left/right. It teaches kids ages 3+ about controls, directions, algorithms, sequencing, estimation and basic programming too!
It's a perfect first robot for kids to get familiar with the rudiments of robotics & robot components itself. Kids are driven by their inquisitive nature, helping them to learn more and nurture their abilities.
The robot is designed & intended to be used in preschools & elementary schools. It accompanies kids as their knowledge of mathematics, geography, spelling and vocabulary progress. It helps nursery pupils develop their spatial awareness by imagining the best route for their Bee-Bot.
Now we have a new Bee-Bot® version, that besides the features of the older model it has:
• Increased interaction – Bee-bots can talk to other Bee-bots!
• New Cross-curricular resources
• 200 steps program memory!
• With Audio Recording & Playback
• Simple & Bright Buttons
• Sound & Flash notifications upon sequencing instructions.
• Compact & Durable
Note: From March 21st, 2019 the old version is discontinued and we will be shipping the new interactive version.
Command Cards
Each Bee-Bot / Blue-Bot command card pictures one of the 'bot control keys on one side and an image of a Bee-Bot with the same key highlighted on the other. Children can use the cards to record their command sequence as they push Bee-Bot and Blue-Bot's buttons. Command cards provide a visual record of the planned program that students can follow as it is executed. Cards may also be used to create games and challenge young learners.
Each set of Bee-Bot / Blue-Bot Command Cards comes with 88 brightly-colored, laminated cards that stand up to long term use.
LEARNING AT HOME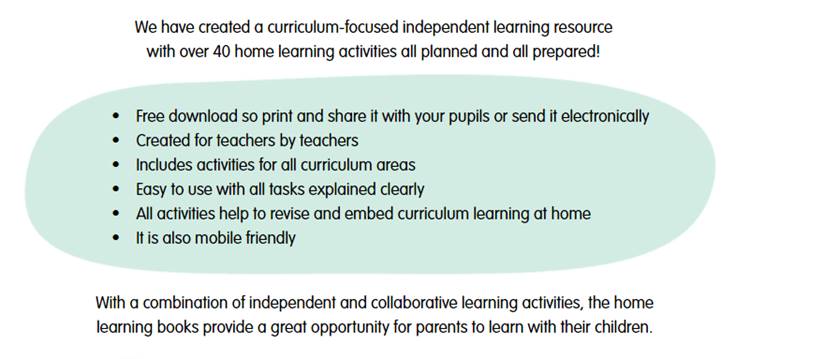 Clear and bright buttons
Makes sounds and flashes eyes to confirm instructions when sequencing
Memory of up to 40 steps and pause commands
Robust design
No confusing degree turns to program
Open-ended learning device
Small and compact
Why Bee-Bots in Classroom?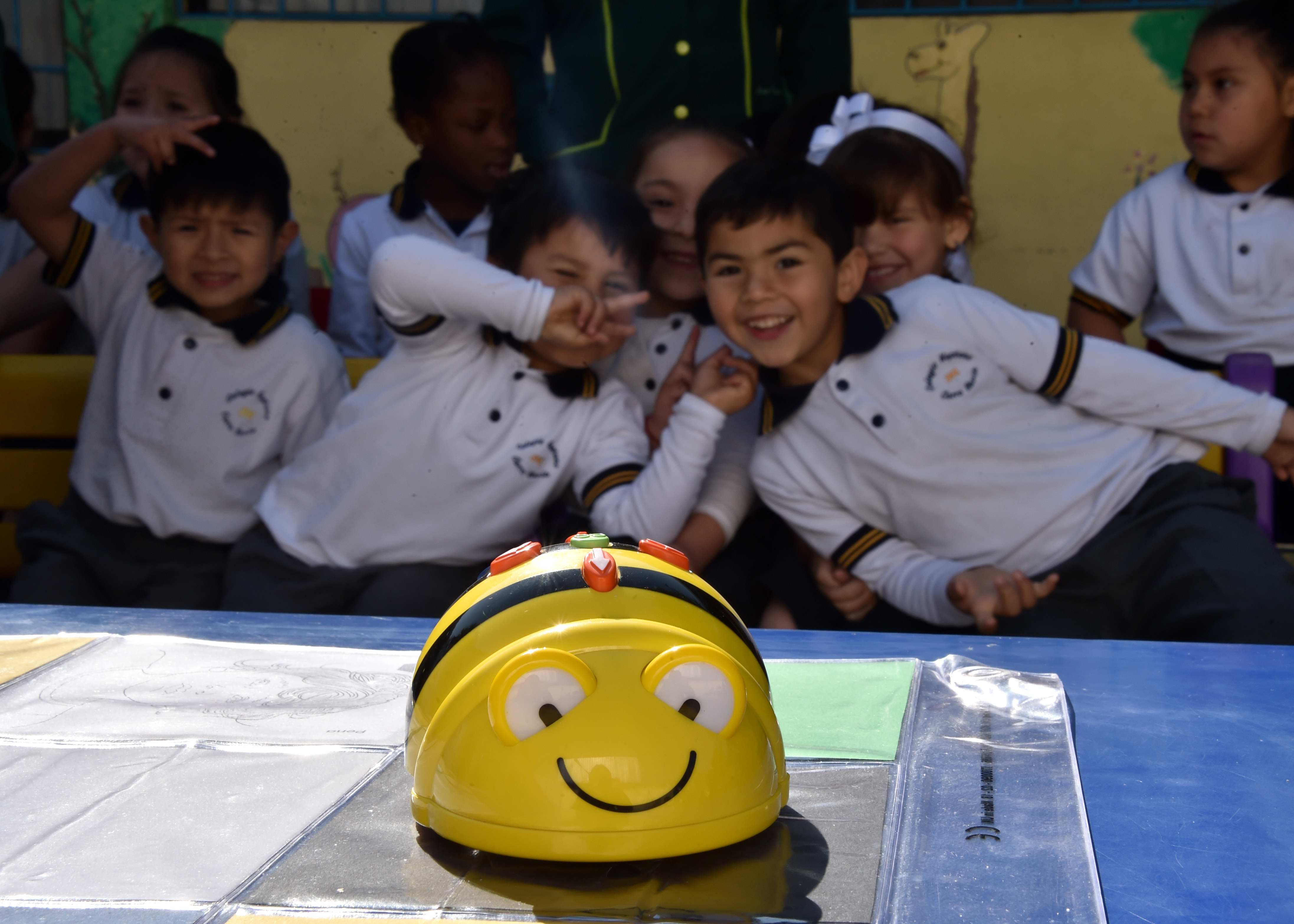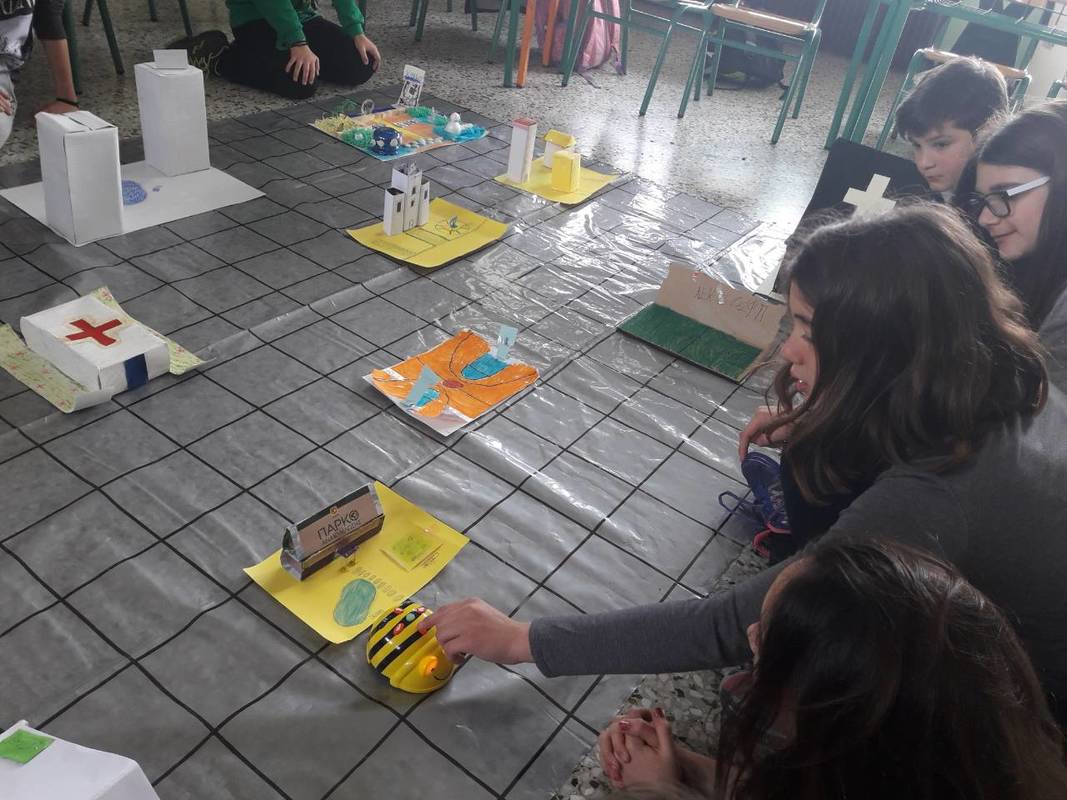 Introduces kids to sequencing, estimations & control
Helps in understanding the directional language
To think and plan for sequence repetitions
Understand algorithms
Plan, Wireframe, Write & Debug programs
Learning from Failures, of what, where & why it went wrong
Encourages motor development skills
Instant Audio & Visual Feedback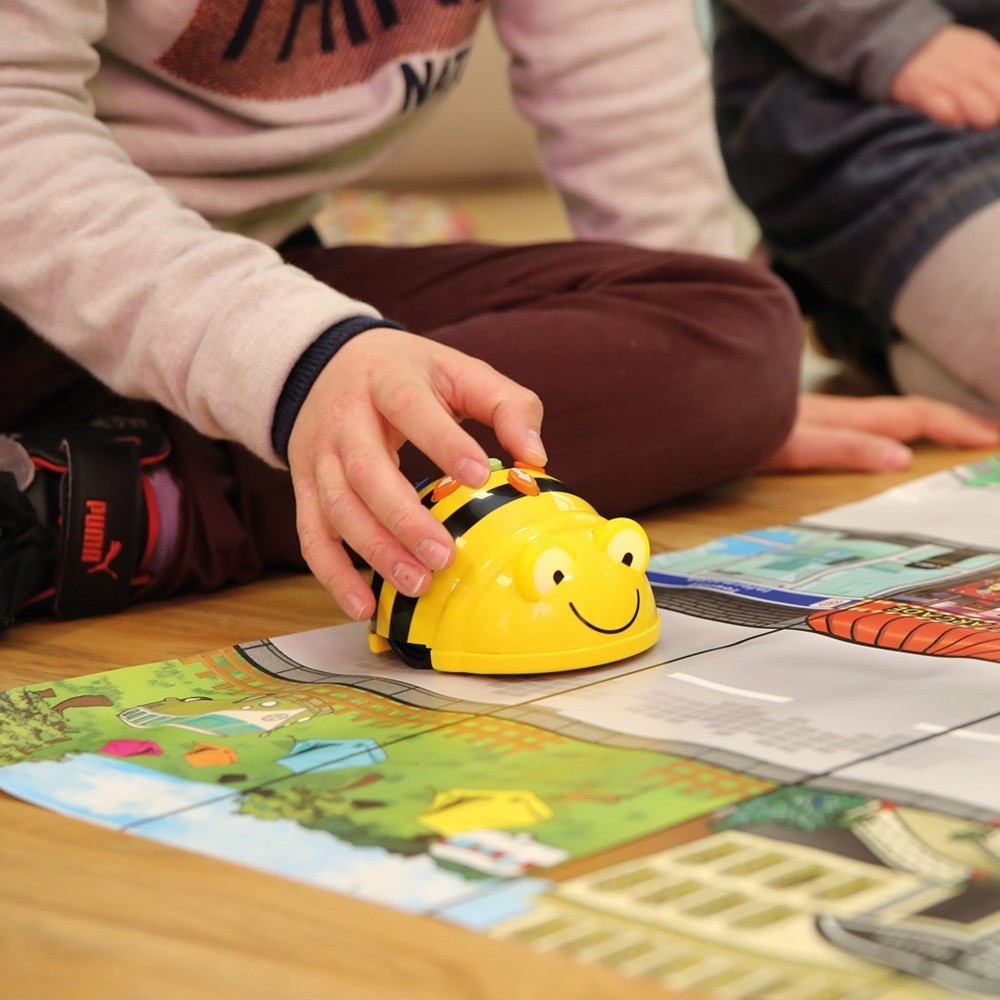 In modern era of instant gratification, it's important for kids to have a real-time audio & visual feedback through robots. Bee-bot makes it possible with child-friendly, durable and attractive design as well.
Increased Freedom & Creativity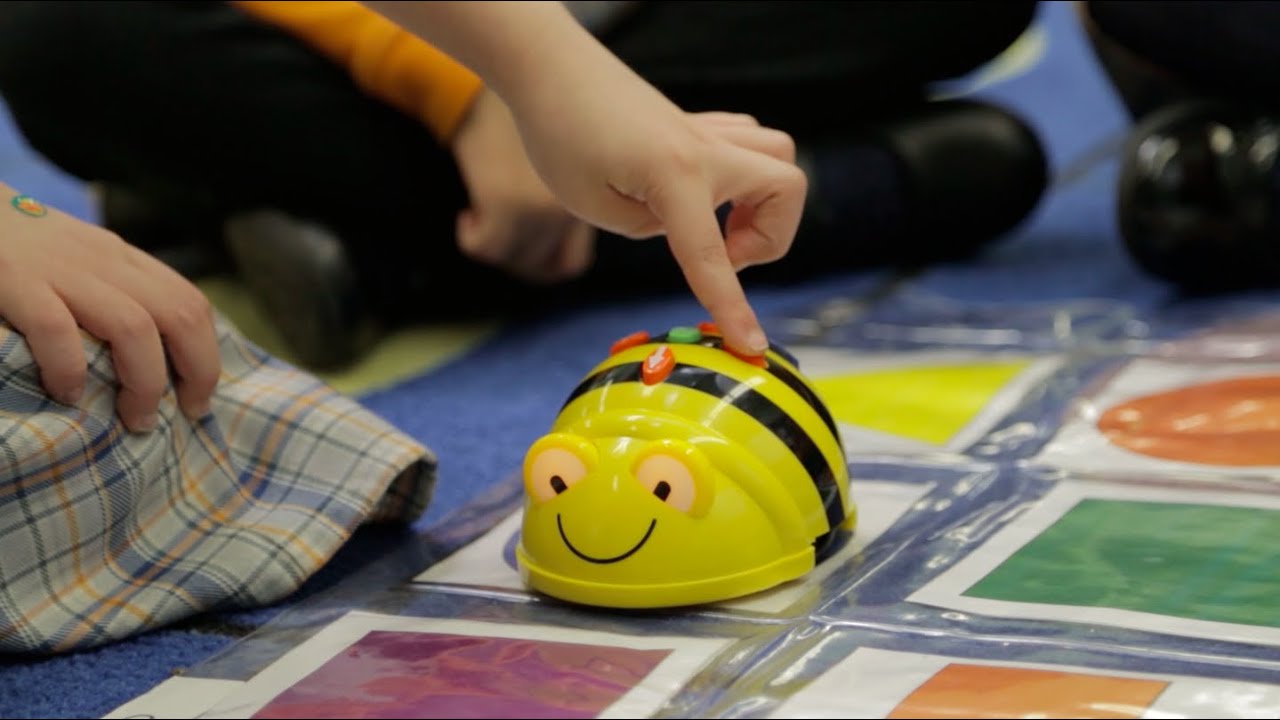 Kids can program the robot to take 15cm steps and then turn left or take a 90 degree turn; it's all up to kids to program it as they wish. Such freedom help kids to explore their creativity explore their untapped potential, increase in cognitive abilities and focus.
Blends in Kids Curriculum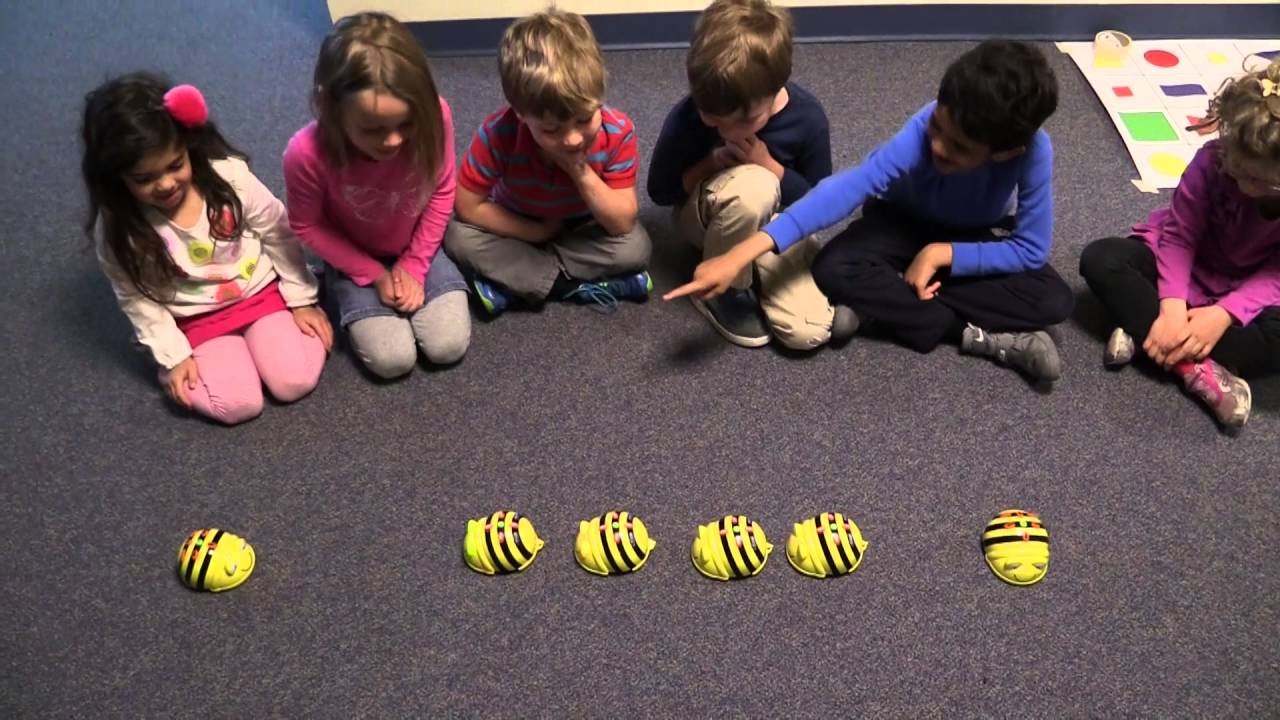 Bee-bots can be easily blended in to current curriculum & can be used for an imaginative role-play too. Within a limited space, kids get to explore a new fun world where every kid gets together and work together to have more fun and achieve desired goals.
Supported Surfaces - Floor & Desk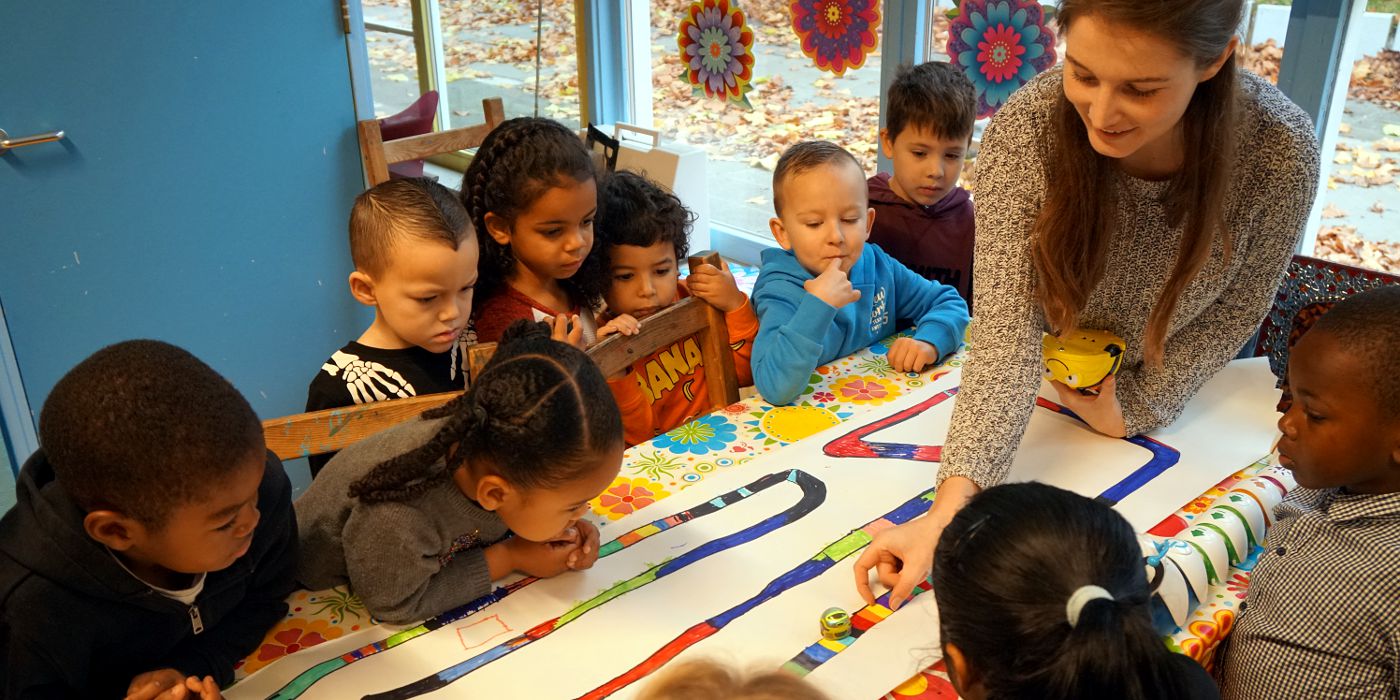 The robot works on all the surfaces, be it floor or even desks. So that kids can either group together to play with it on a desk or use floor for a bigger play area and more fun!
Rechargeable Robot
It's a rechargeable robot, so you don't have to spend multiple times for buying costly 3AA batteries. With a one-time investment on batteries, kids can enjoy their time with robots daily! Recharging Bee-bots is pretty straight forward and takes minimal time.
Technical Charging Details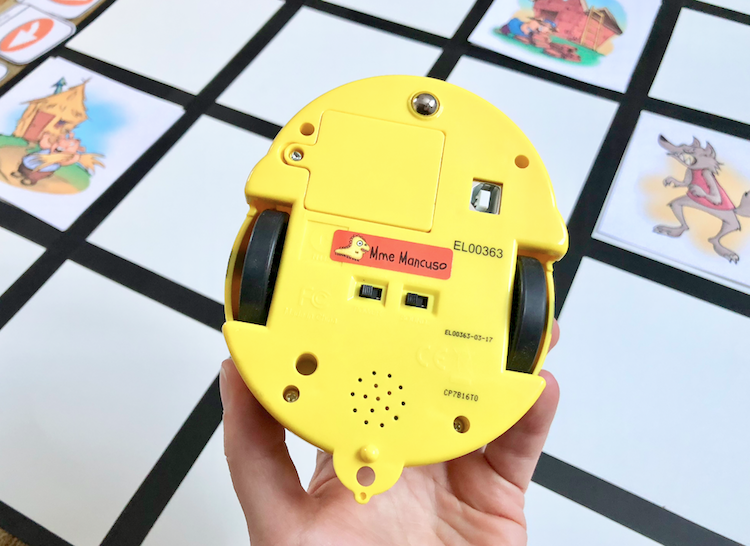 For the first charge or when the battery has been discharged for a long time, it may take up to 12 hours to fully charge the robot batteries. On a fully-charged battery, the robot can give approx 8 hours of normal usage & 2 hours of continuous use. It's designed as an educational floor robot providing maximum learning benefits to small kids & a fun learning environment.
Warranty
With a 1-year warranty, you don't have to worry about getting it damaged. It's durable enough to last for years, but we have got you covered just in case if the product fails to deliver up to standards.
Sturdy construction and colorful design entice children to put Bee-Bot through its paces. Directional keys are used to enter up to 40 commands which send Bee-Bot forward, back, left, and right. Pressing the green GO button starts Bee-Bot on its way. Bee-Bot blinks and beeps at the conclusion of each command to allow children to follow Bee-Bot through the program they have entered and then confirms its completion with lights and sound. Children want to use Bee-Bot over and over and are inspired to enter ever more creative and complex command sequences.
Bee-Bot Dimensions: 15.2 x 15 x 8.2 cm>
Bee-Bot Item Weight: 318 g
Suitable for kids ages 3+
Includes Command Cards separately.
Package Includes
Rechargeable Bee-Bot Educational Robot
USB Cable
Each set of command cards contains:
16 FORWARD cards
16 BACK cards
16 LEFT cards
16 RIGHT cards
8 PAUSE cards
8 GO cards
8 CLEAR cards
No
Videos