KIBO, screen-free robot kit for kids. 4-7 years old. 10 Blocks Kit Intro level (with bin)
Processing Time
1 - 2 Business Days
KIBO is a screen-free robot kit for kids that lets 4- to 7-year-olds create, design, decorate and bring their own robot
More details
Build. Art. Code. Play.


What is KIBO?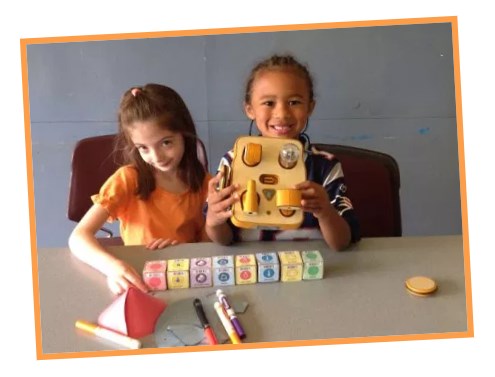 KIBO is the screen-free robot kit for kids that lets 4- to 7-year-olds create, design, decorate and bring their own robot to life! KIBO is an easy and fun way to bring robotics and coding to your young learners and spark their interest in STEAM.
When children code with KIBO they are learning invaluable skills that will lead them on the path for success in science, technology, engineering, art, and mathematics (STEAM) skills and future careers. As they learn all these skills, they will think it is just play!
Based on 20 years of early child development research, this hands-on educational robot engages young students to learn STEAM concepts through play and creative self-expression.
STEAM learning with KIBO is fun, imaginative and easy. Your youngest learners will playfully discover these concepts by coding with wooden building blocks, creating sequences, and learning design processes.
Used in 55 countries and tested and approved by thousands of children and their caregivers, KIBO has proven efficacy in helping kids learn STEAM, and getting them excited about it!
Imagine and Create with KIBO

Young children learn by doing. KIBO gives your kids the chance to make their ideas physical and tangible—exactly what their young minds and bodies need. And KIBO does all this without requiring screen time from PCs, tablets or smartphones.
KIBO serves as an open platform designed for kids to imagine and create their own robot. Just turn it upside down. See the circuitry? Kids can visibly see that this is the KIBO "brain" and not magic. Just add the wheels with the motors and your KIBO is on the move!
Which KIBO is Right for Me?
For Educational Institutions
KIBO 18 & KIBO 21 are available in various Classroom Packages, which includes our Curriculum Materials.
For Individuals
KIBO is available in 4 different robot kits.

Curriculum and Teacher Materials to Ensure KIBO Success
When you make the commitment to purchase KIBO for your young learners, we want to ensure you're successful bringing robotics into your classroom.
The KIBO Curriculum integrates: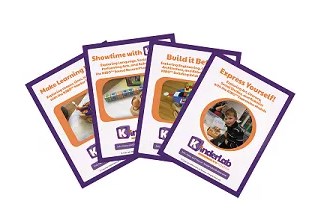 – Computational thinking (Programming)
– The Engineering Design Process (Building)
– Integration component (Curricular Theme)
Browse the complete list of teaching materials and lesson plans.
Our comprehensive set of curriculum materials supports you in every way. You'll get easy to implement lesson plans and fun play-based activities to introduce KIBO and build students' basic engineering and programming skills; but you'll also get support in integrating robotics into your classroom with a wide range of cross-curricular connections to literacy, community, dance, science, and more!
KIBO Robot Kit – Intro with 10 Programming Blocks
KIBO is a robot kit specifically designed for young children ages 4-7 years. It is different from any other kit out there because it appeals to both technically minded kids and those that connect more to arts and culture or physical activity. Young children learn by doing. Children build their own robot with KIBO, program it to do what they want, and decorate it. KIBO gives children the chance to make their ideas physical and tangible—exactly what their young minds and bodies need. And KIBO does all this without requiring screen time from PCs, tablets or smartphones.
Made by teachers for teachers
Provides mental growth and stability to kids between 4-7 of age.
Introduces kids to robotics and computing.
Increases cognitive ability
An easy to use scanning system by the robot for scanning programming blocks
Blocks use repeat loops, conditional statements, and nesting statements as well.
A detailed guide to use the robot kit effectively



After Years of Research by Kinder Labs
Kinder Labs came up with KIBO Intro Kit after years of research for finding effective ways to help kids learn coding from an early age. With this kit, your child gets to know about programming and how mobile robotics work. Also, they learn more about the inputs and outputs and how to use them for making a custom project for example.
KIBO Kit Details
The following KIBO robot kit contains 10 programming blocks, 4 parameter cards, 2 motors and two wheels.It also includes cardboard teacher guide. It requires you to purchase four AA batteries (not included). It is also proven to be the most effective kit for children from age 4-7 but works well with kids from age 4-10 as well.
How KIBO works?
KIBO, being a robotic kit involves two aspects. First one is hardware which is the robot itself. Other one is software which connects all the programming blocks and makes the robot move.
More about KIBO
It may sound complicated but KIBO is an easy DIY kit. We have included learning materials to better understand, wheels, motors, light output and all the other sensors. So you can be rest assured that your kid will have a great time with the KIBO kit.
KIBO robot has an embedded scanner (built-in). The scanner scans the bar codes of programming blocks and commands the robot based on the chosen programmed block. It's important to note that for this age group, no touch screen-time is required. So you don't need a computer and you don't even need a tablet for it to work.
American Academy of Pediatrics – Recommendation for Kids
We want it to be a joyful toy for creative learning and do not suggest hurting their eyes with tablets due to longer playtime of classes. And besides they are only kids, so we should avoid wrong habits and getting them exposed to a lot of screen time. After all, it is bad for their health as well. American Academy of Pediatrics second on with their recommendations for kids.
Final Thoughts
How do we manage to instill cognitive and creative abilities in kids?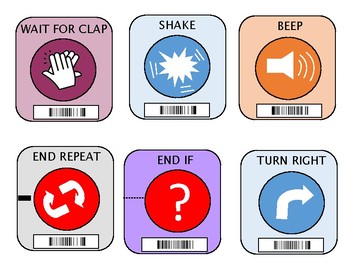 KIBO blocks use repeat loops, conditional statements, and even nesting statements. So it can be simple but it's flexible for advance users to solve more complex problems. This makes it an all in one choice for kids.
Weight: 4 (lbs.)
Dimensions: 14 x 9 x 6 (inches)
KIBO robot Intro kit contains

10 x programming blocks
4 x parameter cards
2 x motors
2 x wheels
Bin
No
Q-1 Where can I find the complete parts list for each KIBO kit?
The complete contents of each KIBO kit can be found on Contents tab in the product listing page.
---

Q-2 What is your warranty policy?
We offer a 6-month warranty on the KIBO robot and its parts.
We test every robot and component before it leaves our factory, but sometimes issues do arise. If you find KIBO and any of its parts faulty, please contact support and let us know the program you are experiencing. If, after testing, we find KIBO or its parts faulty, we will replace it. We will ask that you mail back the faulty part with the printed note describing what the issue was.
---

Q-3 What is your return policy?
If you decide you do not like your KIBO and want to return it, you have 30 days to do so. You need to mail us the KIBO in the exact same condition and packaging as you received it and email us to let us know that you are sending it back and (if you are so kind) the reason why. Once received, we will refund you the amount you paid for KIBO. After 30 days, we will not accept returns.
---

Q-4 What is the main difference between the four different KIBO kits?
There are two main differences between our different KIBOs: the number of programming blocks they come with (which determines the number of actions KIBO can perform) and the number of add-on modules to expand the options for learning and playing with KIBO.
See what is included in each kit in our comparison chart.
---

Q-5 Can I buy more programming blocks a la carte?
Yes! Please visit our online store.
---

Q-6 I already bought a KIBO 10, can I now buy sensors a la carte?
Yes! Please visit our online store. If you buy new sensor modules, make sure to buy the needed programming blocks, such as the IF and END IF and the associated parameter cards.
---

Q-7 I am a parent and I want to know what is the best way to start helping my child learn with KIBO in a fun way?
We have developed a set of activity cards to help you get started. You can find them online, or you can order them from our online store. We have also created a game called KIBO Says, which is very similar to Simon Says and helps children learn the different KIBO commands.
We also have a site dedicated to activities, tutorials, and curriculum called KIBO Resources .
---

Q-8 Do you offer professional development?
We do! See all the types of professional development available, including training. If you can't find what you are looking for, please contact us. We will be happy to work with you to craft something to meet your needs.
---

Q-8 Can I get a sample KIBO for my classroom?
Please contact us to learn more about the demo/pilot program where we will discuss your needs, a possible loan term and other details. Make sure to sign up for our Child's Play Newsletter to learn more.
---

Q-9 How do I get a grant for my school to buy KIBOs?
There are several different ways. See our Grants and Funding page to learn the various ways to get funding for your school purchase. There, you will also find a PDF document with information you might find useful when writing a grant.
---

Q-10 What kind of teaching materials do you have available?
We have teaching materials that include a sample of everything educators might need for using KIBO in their classrooms, after school programs, summer camps, etc. Check out the Engineering Design Journal, Assessment Workbooks with stickers, Activity Guide Cards, Curriculum Book, "KIBO Says" programming game and two posters. You can also buy all of these materials a la carte or in packets of 25 or 100 or buy a classroom package which includes Teaching Materials.
We also have a site dedicated to activities, tutorials, and curriculum called KIBO Resources.
---

Q-11 Can you tell me more about your curriculum?
Our core curriculum, "Creating with KIBO" is designed for helping young children build, create, and learn to code with the KIBO robot kit. It provides an engaging introduction to powerful ideas from computer science, engineering and robotics in a structured, developmentally appropriate way: the engineering design process, robotics, sequencing a program, control flow through parameters, branched statements, and sensors. After being exposed to this curriculum, young children will be able to engage in both computational thinking and engineering design, while having fun with their KIBO robots. The curriculum integrates the use of art materials, literacy, music and dance. It is aligned with Common Core standards.
This 40-hour core curriculum framework covering programming, robotics, and the engineering design process with KIBO, was created for children 4 to 7 years old. Its scope and sequence is based on over a decade of research done by Prof. Marina Umaschi Bers and her DevTech research group at Tufts University. Check out their Early Childhood Robotics Network, to find other curricula for using KIBO and integrating it with different content areas in the early childhood classroom.
In addition to the core curriculum, we also have four Curriculum Guides which explore cross-curricular activities using the KIBO expansion modules:
Marker Extension Set – Make Learning Visible!
Sound Record/Playback Module – Showtime with KIBO!
Building Brick Extension Set – Build it Better!
Expression Module – Express Yourself!
We also have a site dedicated to activities, tutorials, and curriculum called KIBO Resources.
---

Q-12 What are your recommendations for equipping a classroom with KIBOs?
It depends on how many children are in your classroom and how many children you want to group together while working with KIBO. Based on our experience with different classroom needs, we put together three packages that have everything a teacher will need:
A Classroom Package that serves 20 to 24 students, which includes ten KIBO 18 or KIBO 21 kits plus teaching materials for 25 students
A Small Classroom Package that serves 10 to 12 students, which includes five KIBO 18 or KIBO 21 kits plus teaching materials for 12 students
An Activity Center Package that serves 4 to 6 students which includes two KIBO 18 or KIBO 21 kits plus teaching materials for 6 students.
We are happy to develop a package that is right for you! Please contact our sales team to discuss your unique situation.
---

Q-13 Can I get a discount if I buy many KIBO kits?
We offer discounts for single orders as follows:
5% for orders totaling between $25,000 – $60,000
10% off orders over $60,000
Please contact us and let us know if you have any questions on the discount.
---

Q-14 How can I get Technical Support help?
You can contact our technical support team with any issues you may have. Alternatively, please see our Technical Support page which may offer additional assistance.
Videos